Coating machine
Table of contents (Click to move to the lower part of this page)
Coating machine
One example of photolithography process

Coating machines form films onto coating objects including base materials such as glass, semiconductor wafers, and metal films. Coating methods can be generally classified into wet coating and dry coating.
"Wet coating" is a method to coat objects with liquid coating materials such as liquid photoresists and hot-melt adhesives. Representative wet coating machines are listed as follows.
・Dip coater
・Spray coater
・Spin coater
・Roll coater
・Slit coater
"Dry coating" is a method to form films in a vacuum. There are vapor deposition machines and sputtering coaters.
NSC Engineering has been fabricating a large number of wet photoresists coaters up to the present. We have fabrication records not only in coaters but also in compound lines combining coaters with other equipment such as pre-treatment equipment or loader/ unloader systems.
The following machine is an example from our supply records.
Dip coater
Features
NSC Engineering's dip coater is capable of coating multiple workpieces simultaneously as well as achieving uniformity in coating even on workpieces with a complex uneven shape.
The coater's processing tanks are equipped with automatic temperature regulating function. With this function, viscosity and temperature of the coating material, which are essential control items in coating process, can be stably maintained.
Specification examples in our machine supply records
| Item | Fabrication record |
| --- | --- |
| Material of work | Glass |
| Thickness of work | 0.5~0.7mm |
| Size of work | ~450mm×500mm |
| Chemicals mainly used | Organic photoresist |
| Process capacity | Approx. 22,800 sheets/ month |
| Takt time | Approx. 480 secs. / 5 sheets |
| Standard delivery time | 4 months |
| Safety measure | Automatic fire extinguisher attached |
| Operation system | Manual operation |
| Control system | Relay control |
| System standard | JIS, Japanese Industrial Standard |
Spray coater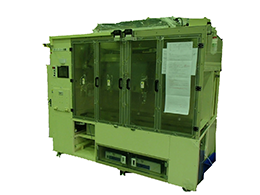 Features
NSC Engineering's spray coater coats the coating objects with sprays, which give the coating process ability to deal with workpieces in many shapes from a plane shape to a complicated 3D shape.
As coating process can be conducted without touching the base materials, defects such as dimples are hardly caused. Single-sided coating and double-sided coating can be selected from its spray controlling system.
Specification examples in our machine supply records
| Item | Fabrication record |
| --- | --- |
| Material of work | Glass |
| Size of work | ~ 36 inches× 58 inches |
| Chemicals mainly used | Organic photoresist |
| Standard delivery time | 4 months |
| Safety measure | Interlocks at each spot |
| Operation system | Automatic operation |
| Control system | PLC control |
| System standard | JIS, Japanese Industrial Standard |