Chemical etching machine for glass products
To achieve mass production of slimming LCD glass substrates, there are 2 representative methods: "mechanical grinding" and "chemical etching".
In recent days, chemical etching has been the mainly adopted method for its superiority in processing each glass substrate with a short takt time.
Among several different methods to perform chemical etching, in order to handle those LCD glass substrates growing larger in size, NSC Engineering chooses to design & fabricate single substrate chemical etching machines on which the glass substrates are conveyed in a horizontal lying position.
Machine types NSC Engineering designs & fabricates
Generation

Size (mm)

Sheet number/ Loading

Generation 8.5
(NSC Engineering is able to fabricate machines for G8.5 glass production)

2200 x 2500

1 sheet/ Loading substrates loaded continually

Generation 6
(NSC Engineering has records in fabricating machines for mass production)

1500 x 1850

1 sheet/ Loading substrates loaded continually

Generation 4.5
(NSC Engineering has records in fabricating machines for mass production)

730 x 920

2 sheets/ Loading substrates loaded continually
Machine fabrication records
| Item | Fabrication record (Generation 6) |
| --- | --- |
| Material of work | Glass |
| Thickness of work | 1.0 → 0.20 mm (Ultra-thin, to a thickness of 0.05 mm) |
| Chemicals mainly used | Hydrofluoric acid slimming etchant |
| Process capacity | 13,300 sheets/ month |
| Takt time | Approx. 125 secs |
| Standard delivery time | 5 months |
| Safety measure | Interlocks at each spot |
| Operation system | Automatic operation |
| Control system | PLC control |
| System standard | JIS, Japanese Industrial Standard |
Features of ultra-thin glass slimming machine "NX"

The machine "NX" carries forward the glass substrates which are laid flat on the conveyor and at the same time sprays etchant (strong acid) onto these glass substrates. In this way, workpieces can be conveyed and slimmed simultaneously.
Total thickness of 0.05 mm or less can be realized after finishing the process.
Uses
Mobile devices which demand thinner and lighter glass substrates.

Example

1. Smart phone
2. PC
3. Cover glass, etc.
The main point in fabricating an etching machine
For etching machines in general, given that strong acid is used as etchant, in most cases the machines should be made of plastic resin which is chemical resistant.
Resins can be processed by any equipment with high accuracy, however, resin welding techniques, which greatly affect the perfection of an etching machine, are not easy to be acquired.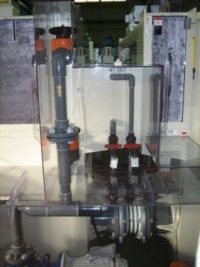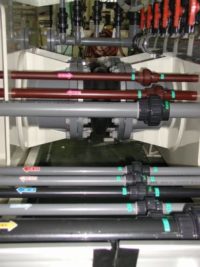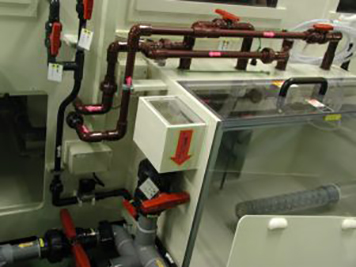 To earn customers' confidence in our machines, at NSC Engineering, only experts with techniques acquired through long experience, who are capable of excellent craftsmanship, will be in charge of our machine fabrication.